Olives  By wollombi cc: flickr
On Shabbat, 6/10/12 Palestinian olive harvesters were badgered during the oilve harvest in the West Bank, area C.  This happened in a couple of places but the worst incident was probably in the lands of El Genia where settlers from "Zayt Ranaan" accosted farmers out harvesting, threatening them with fierce-looking dogs on chains.
The harvesters nevertheless continued their work much to the frustration of their settler neighbours.  The next morning residents of El Genia discovered that 18 olive trees had been vandalized and badly damaged in the area of this incident. Rabbis for Human Rights has reported this to the DCO and police and is encouraging the local people to lodge complaints.
***
On 6 October 2012 went Ja'asra family, Women, men and children for Olive harvest on their privet own land, Tarqumiya, west to Hebron. After early attempt that week which ended in expelling and tear gas by IDF, their lawyer from RHR legal team contact the civil administration head officer of the area, to make sure it wouldn't happen again. His respond "it was mistake (the expulsion), they can come and harvest" he was notify they would, on Saturday. When they came, tear gas again.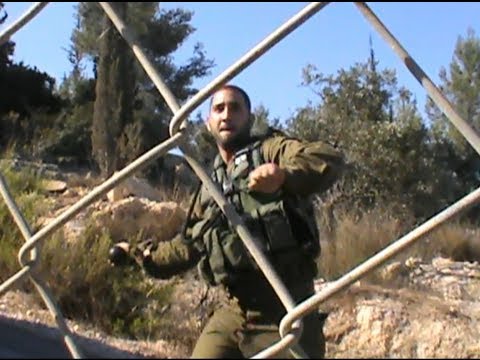 –
If you found this story important/shocking/touching, and you want to help us to change the situation, please donate here and strengthen the Jewish voices that see in every human being the image of God.